1. 多种中文输入法:拼音、英中、五笔、注音、仓颉……
Multiple Chinese input methods: PinYin, English-Chinese, Chinese Phonetic, Cangjie, etc…
a) 拼音输入法:快捷输入词组、整句和汉字加拼音声调
PinYin Input: input Chinese phrases or complete sentences, and Chinese characters with PinYin Phonetic both Simplified and traditional fonts easily.
<![if !vml]>

<![endif]>
b) 英中输入:用英文输入中文,伴随中文发音,方便学习!
English-Chinese: Designed for users who prefer to use English to input Chinese characters. Just key in the English words and it will translate into Chinese characters with the standard Chinese pronunciation immediately.
This is a good way to facilitate the learning of Chinese language.
<![if !vml]>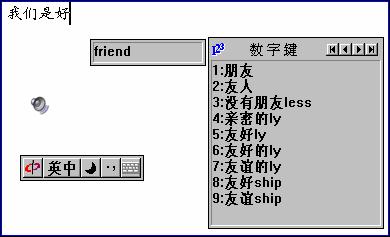 <![endif]>
2. 丰富的中文字体:简体(GB)、繁体(BIG5)。红色字体为Windows字体。
A lot of Chinese Fonts :Simplified (GB) and Traditional ( BIG5) fonts. Windows fonts displayed in red.
简体Simplified (GB):
宋体、黑体、楷体、隶书、魏碑、仿宋、琥珀、彩云、细圆、隶变、康体、少儿、毡毛、黄草、水柱、行楷、小篆。
繁体Traditional ( BIG5):
细明体、新细明体、楷体、仿宋、魏碑、新书宋、黑体、彩云、琥珀、
隶变、秀丽、中楷、小标宋、粗黑、粗圆、行楷、舒体。
<![if !vml]>

<![endif]> 其中:楷体、仿宋、新书宋、黑体含另外4818香港字。
3.中文、英文全文朗读,方便学习和校对。
Full text read aloud in Chinese, making it easy to learn and to edit.
4. 多语言使用界面(简体、繁体和英文)。
Supports multi-language user interfaces in Simplified or Traditional Chinese and English.
<![if !vml]>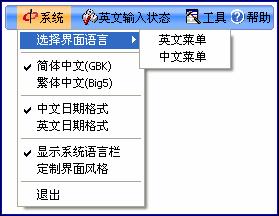 <![endif]><![if !vml]>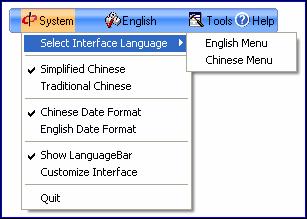 <![endif]>
5. 实现中文简体(GB)、繁体(BIG5)和英文在同一篇中共存。无乱字问题。
Accepts Simplified Chinese, Traditional Chinese and English in the same document, and completely solves the garbage problem from the internal coding.
<![if !vml]>

<![endif]>
6. 全能汉语拼音声调工具,极大地方便中文教师和出版机构。
Quick and handy HanYuPinYin Phonetic tool, convenient for Chinese teachers
and publishers.
· 实现汉字向拼音声调的自动转换;拼音声调自动加在汉字之下;拼音声 调自动加在汉字之上。
Automatically convert Chinese characters to Phonetic, embellish Phonetic on the bottom of Chinese characters or on the top of Chinese characters.
· 独特的拼音声调输入功能、可随意编排。
Unique Phonetic input function with free Phonetic format.
· 包括GBK所有汉字的拼音,可区分多音字,可添加自定义词组。 Including all Phonetic in GBK, Recognizing polyphonic words and creating new phrases.
<![if !vml]>

<![endif]>
7. 中、英文扫描输入(OCR),协助您快速输入和收集资料。
Chinese and English OCR, speeds up the input and information collection process.
8. 全新的有声双语词典 - 金山词霸2003。
PowerWord: the latest version of the most widely used and most powerful Chinese/English 2-ways audibly and visually dictionary.
9. 造字功能,彻底解决疑难"字症"。
Capable of creating Chinese characters, enables one to use less frequently used
Chinese characters which have not been built in the system.
<![if !vml]>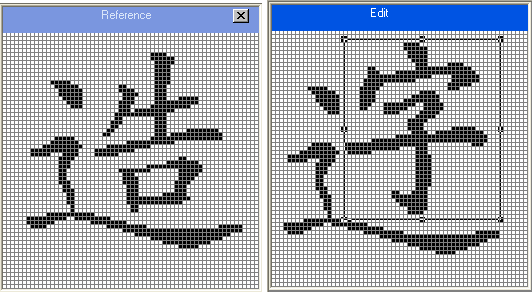 <![endif]>
10.文档修复器:让旧文件在新版本软件中正常使用。
仅适用于 ( Word、Excel、PowerPoint 文档 )。
Document renovator: effectively solves the compatibility between old documents and
new version of software. Suitable for Microsoft Word, Excel, PowerPoint document
only.
11. 汉字笔划学习:掌握每个中文字的" 音、意、形 "。
Teach yourself how to write and pronounce Chinese characters.
<![if !vml]>

<![endif]>
12. 内码转换器:解决简体(GB)、繁体(BIG5)文档间相互转换的烦恼,方便交流。
Encoding converter: convert GB and BIG5 easily.
13. 拼音调号转换功能和编辑功能、简繁体转换功能、文档修复器内嵌于Microsoft Word,使用更方便。
Inlay Phonetic Converter and Editor, Encoding Converter and Document Renovator
into Microsoft Word, easy to use.
<![if !vml]>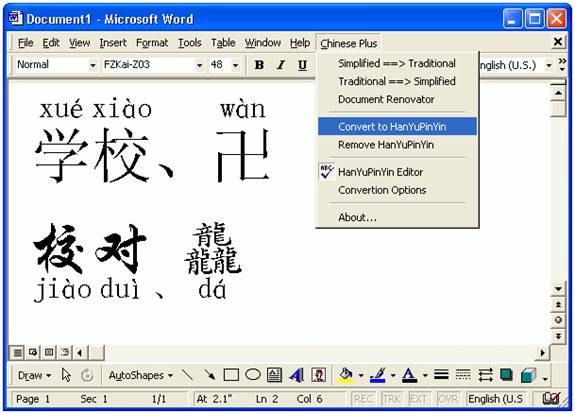 <![endif]>
14. 无与伦比的兼容性,支持多种英文软件,同时处理中/英文。
Superior compatibility: process Chinese in most English applications. Such as: Office 2000 / XP、Photoshop 6.0/7.0、Coreldraw 11、IE 5.5/6.0 、PageMaker 7.0、Illustrator 11、 Photoimpack 8.0、Acrobate 6.0、Dreamweaver MX、Flash MX、Photoimpact 8.0、Acrobate 6.0、AutoCad 2004、SQL Server
2000、Windows 2000 / XP Terminal Service、Cytrix Metafram
系统要求(System requirements):Windows 2000 / XP,
CPU Pentium 300, Memory:64 MB Hard Disk: 500MB